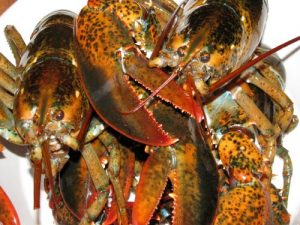 Nova Scotia is Canada's largest exporter of fish and seafood. The province's most valuable fisheries include American lobster, Atlantic sea scallops, and snow (queen) crab.
Other important fisheries include haddock, herring, Atlantic halibut, northern shrimp, swordfish, and tuna.
Several Nova Scotian fisheries have achieved Marine Stewardship Council (MSC) certification.
Market recognition for the Nova Scotia seafood industry is provided by the Nova Scotia Seafood Quality Program (NSSQP). The program is based on globally recognized standards for seafood quality, sustainability, and traceability for several species.
Nova Scotia has 4,750 miles of coastline, bordered by four bodies of water; the Atlantic Ocean, the Bay of Fundy, the Northumberland Strait, and the Gulf of St. Lawrence.
Nova Scotia is connected to New Brunswick through the Isthmus of Chignecto.
Nova Scotia is noted for having with the world's highest tides, which occur in the Bay of Fundy.
The province is also known for its "Novi" commercial fishing boats.
Related Information