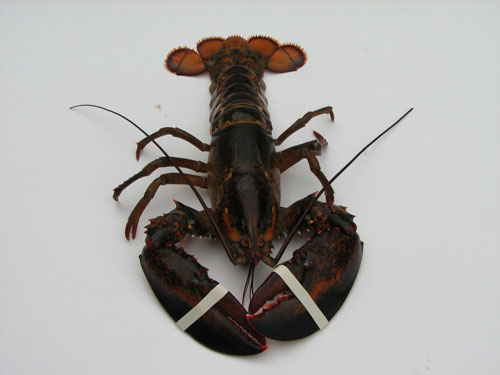 The American lobster fishery is important to both Canada and the USA. Lobsters are caught in baited traps placed on the bottom. Lobsters are also caught incidentally by bottom trawling.
Most lobster trapping occurs in shallow inshore waters. Offshore lobster fishing occurs in waters up to 200 meters deep.
Canada
The American lobster is Canada's most valuable seafood product. A large portion of Canadian lobsters are exported to the USA and other countries.
In Canada, lobster fishing is practiced in the Gulf of Maine, Bay of Fundy, Southern Gulf of St. Lawrence, and Nova Scotia.
Canada's inshore lobster fishery is managed by limits placed on fishing efforts (input control). The offshore fishery is subject to fishing effort limits as well as a total allowable catch (TAC).
USA
In inshore waters, American lobsters are most abundant from Maine through New Jersey, with abundance declining from north to south. Historically important inshore areas include the Gulf of Maine, Cape Cod Bay, Buzzards Bay, Nantucket Sound, Narragansett Bay, Rhode Island Sound, Block Island Sound, and Long Island Sound.
Lobsters are found offshore from Maine through North Carolina. Since the 1970's, U.S. landings have increased steadily.
The U.S. American lobster fishery is managed cooperatively by the states and the National Marine Fisheries Service under the framework of the Atlantic States Marine Fisheries Commission (ASMFC).
Individual states manage the resource within their state waters (0-3 nautical miles from the shoreline). The Federal government manages the resource in the Exclusive Economic Zone (3-200 nautical miles from the shoreline).
State and Federal governments coordinate management through the ASMFC's Lobster Board. The Lobster Board is responsible for developing a management plan, known as the Interstate Fishery Management Plan (FMP) for American Lobster.
Related Information