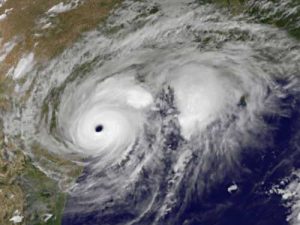 In August 2017, Hurricane Harvey caused catastrophic damage in Texas and portions of Louisiana. Rainfall from the storm resulted in extensive flooding Houston, Port Arthur, and other communities.
Hurricane Harvey made landfall on the night of Friday, August 25th near Rockport, Texas, as a Category 4 storm, according to the National Hurricane Center.
The storm resulted in temporary closures of several Texas ports including Corpus Christi, Calhoun, Freeport, Galveston, Houston, and Texas City. Restrictions were also implemented along a number of channels and other waterways.
Harvey's rainfall totaled more than 51 inches in some areas, setting a preliminary record for the greatest amount of measured single-storm rainfall for the continental US.
The U.S Coast Guard rescued 11,022 people and 1,384 pets in response to Hurricane Harvey.
The Federal Emergency Management Agency (FEMA) made a Major Disaster Declaration for Hurricane Harvey on August 25, 2017.
Long term impacts of the storm on Gulf of Mexico commercial fisheries remain in question.
In August, NOAA issued a scheduled update for its 2017 hurricane season outlook. The updated forecast called for a 60-percent chance of an above-normal season, with 14-19 named storms, 5-9 hurricanes, and 2-5 major hurricanes.
Hurricane Harvey Recovery Resources
http://texasseagrant.org/programs/post-hurricane-harvey-recovery-resources/
https://www.usa.gov/hurricane-harvey
Related Information