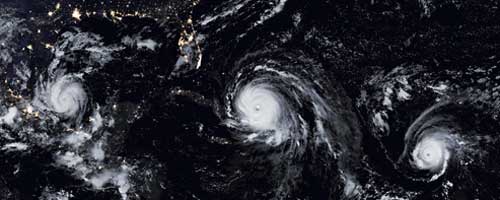 In September 2017, North American commercial fishermen faced multiple hurricanes, tropical storms, and other weather systems.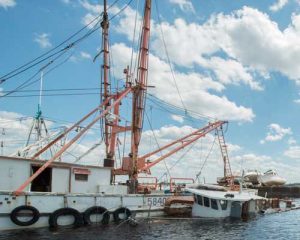 In early September, Hurricane Irma (Category 5) moved across the Atlantic and through the Caribbean before making landfall in Florida. An extremely powerful storm, Hurricane Irma caused catastrophic damage in Barbuda, Saint Barthélemy, Saint Martin, Anguilla, the Virgin Islands (British and U.S.), and Florida (USA).
In Florida, hundreds of vessels were damaged or sunk as a result of Hurricane Irma, according to the U.S. Coast Guard.
The next storm, Hurricane Jose (Category 4) affected the Leeward Islands, Puerto Rico, Hispaniola, The Bahamas, Bermuda, and the East Coast of the United States.
On September 8, Hurricane Katia (Category 1) made landfall near Tecolutla, Mexico.
The next storm to reach Hurricane status was Maria on September 17. The following day Maria intensified explosively over a 24-hour period, with winds increasing to 160 mph (Category 5).
Hurricane Maria inflicted heavy damage to the Virgin Islands and Puerto Rico, destroying electrical systems and other infrastructure. The storm also produced coastal flooding and dangerous sea conditions along much of the Atlantic Coast.
In August, NOAA issued a scheduled update for its 2017 hurricane season outlook. The updated forecast called for a 60-percent chance of an above-normal season, with 14-19 named storms, 5-9 hurricanes, and 2-5 major hurricanes.
Hurricane Recovery Resources
https://www.usa.gov/hurricane-irma
https://www.usa.gov/hurricane-maria
Related Information