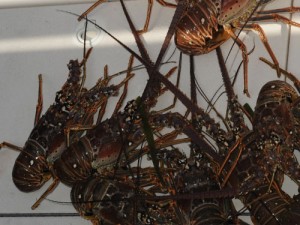 Florida's commercial fishing industry includes inshore fisheries as well as fisheries in the South Atlantic and Gulf of Mexico.
Inshore
Florida's inshore fishermen harvest shellfish including blue crabs, stone crabs, quahog clams, oysters, and spiny lobster, the state's most valuable species.
A number of inshore finfish fisheries also exist, including commercial harvests of mullet and other species.
East Florida
Finfish typically dominate landings in East Florida, with red snapper, grouper, king mackerel, swordfish, and dolphin fish (Mahi Mahi) being important species.
Other important species for East Florida commercial fishermen include shrimp and spiny lobster. In inshore waters, fishermen harvest blue crabs, stone crabs, quahog clams, and oysters.
West Florida
Fishermen in West Florida fish primarily in federal waters of the Gulf of Mexico. Shrimping is typically the region's most valuable fishery.
Other important fisheries include spiny lobster, red snapper, grouper, mullet, and stone crab.
Florida Commercial Fishing Regulations
Florida commercial fishermen are subject to a complex regulatory system. In state waters, commercial fishing is regulated by the Florida Fish & Wildlife Conservation Commission. Fisheries in federal waters off the coast of Florida are managed by regional councils.
Federal fisheries off the coast of East Florida are managed by the South Atlantic Fishery Management Council (SAFMC) and NOAA Fisheries (NMFS) under multiple fishery management plans (FMPs). The Dolphin Wahoo FMP is managed with the Mid-Atlantic Fishery Management Council (MAFMC) and the New England Fishery Management Council (NEFMC). The Gulf of Mexico Fishery Management Council (GMFMC) manages fisheries in the Gulf of Mexico Exclusive Economic Zone (EEZ).
Related Information
Gulf Of Mexico Commercial Fishing