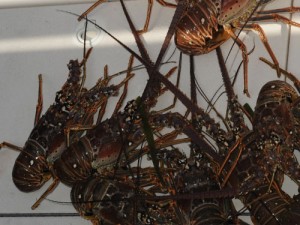 The Caribbean Spiny lobster (Panulirus argus), is an important commercial species in the USA, Mexico, Cuba, Brazil, Bahamas, Honduras, and other areas.
Nearly all U.S. spiny lobster landings occur in the Florida Keys, where lobsters are harvested with traps placed along the sea floor. The spiny lobster is Florida's most valuable commercial species.
In the USA, Spiny lobster are managed jointly by the Gulf of Mexico and South Atlantic Fishery Management Councils.
Related Information