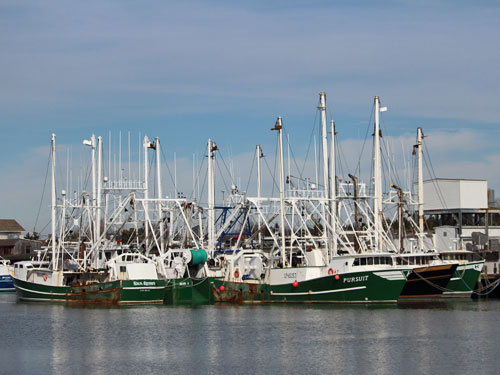 New Jersey is home to a diverse commercial fishing industry that includes groundfish trawlers, offshore clammers, scallopers, lobster boats, crabbers, and others.
Important fishing communities include Atlantic City, Avalon, Barnegat Light, Belford, Belmar, Brielle, Cape May, Highlands, Newark, Point Pleasant, Port Norris, Toms River, and Wildwood.
The Garden State has 127 miles of Atlantic coastline and over 80 miles of estuary shoreline. To the north, Lower New York Bay divides New York from New Jersey. At the state's southern end, Delaware Bay separates New Jersey and Delaware.
New Jersey's most Important seafood species include scallops, Atlantic herring, ocean quahogs/surf clams, American lobster, monkfish (goosefish), blue crabs, summer flounder (fluke), quahogs, and oysters. Atlantic mackerel landings were once significant, although catches have plummeted in recent years.
Related Information