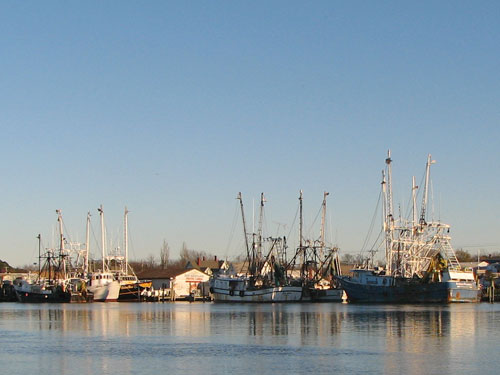 Chincoteague Island Virginia has been home to commercial fishing fleets for centuries. Early settlements on Chincoteague Island thrived based on the excellent fishing opportunities. Oysters, clams, seatrout, croakers, drum, black sea bass, hake, cod, sharks, flounder, mackerel, bluefish, swelling toads, and other local fish were all harvested and shipped out.
During the 20th century commercial fishing continued and several commercial fisheries still exist in the area. Among the remaining commercial opportunities are harvesting of blue crabs, lobsters, hard clams, oysters, flounder, monkfish, spot, croakers, sea trout, drum, bluefish, striped bass, sharks, and others.
Commercial harvests of sea scallops began in the last part of the 1900's and scalloping saw a huge increase during 2003-2006, due to changes in regulations which allowed a flood of smaller independent boats to enter the fishery. Scallop fishing came to a bitter and abrupt halt in 2007 when fisheries managers closed the grounds off Chincoteague to sea scallop harvesting.
The lobster fishery consists of traps set along the continental shelf slopes, mostly found in depths of 40-100 fathoms (240-600 feet). Markers denote the ends of trawls, which contain 25-30 lobster traps. The traps, known as "pots" are baited and fished after soaking for up to 10 days. The catch is kept in tanks and sold live.
Harvests of blue crabs are common around Chincoteague Island. Commercial watermen catch crabs with crab pots, mostly in the shallow bay between Chincoteague Island and the mainland. A brief run of shedder crabs, known as peelers occurs in the spring, and some commercial crabbers will confine the crabs in special floats until they shed. The resulting soft shelled crabs are valuable as a local delicacy or to ship to other markets.
Fish are harvested in a number of ways. Small boats fish the inshore and coastal waters using gillnets. These small operations catch whatever fish are in the area and are valuable enough to exceed trip expenses. Larger boats trawl the ocean depths for flounder, red hake, black sea bass, and other fish.
A black sea bass trap fishery exists in Federal waters, primarily near shipwrecks and rough bottom structure. An inshore trap fishery for whelk, known locally as "conch" is important for Chincoteague Island. Jonah crabs, a bycatch of trap fisheries, is a niche fishery.
An experimental trawl fishery for white shrimp, which are known to gather off the Virginia Coast in late fall, has yielded mixed results.
Chincoteague Inlet and the main channel is well marked, although no room exists for errors. Commercial fishing facilities are sparse on the island. Large boats can receive fuel from trucks that pump fuel directly to the boat. Ice and other supplies are available from local seafood dealers.
Related Information