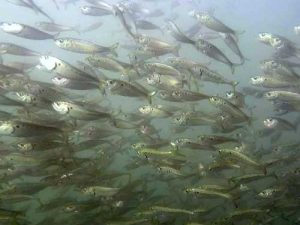 The Atlantic States Marine Fisheries Commission (ASMFC) recently received notification that the Secretary of Commerce concurs with the Commission's finding that the Commonwealth of Virginia is out of compliance with Amendment 3 to the Interstate Fishery Management Plan for Atlantic Menhaden.
ASMFC initiated the out of compliance finding when the Commonwealth failed to implement the 51,000 mt Chesapeake Bay reduction fishery cap (cap).
In accordance with the finding, the Secretary has declared a moratorium on the Atlantic menhaden fisheries in Virginia waters, effective June 17, 2020.
In order to avert the moratorium, the Commonwealth must effectively implement and enforce the cap prior to June 17th. This action was taken pursuant to the provisions of the Atlantic Coastal Fisheries Cooperative Management Act (Atlantic Coastal Act) of 1993.
In a recent letter from NOAA Fisheries transmitting its determination of noncompliance, the agency stated, "NOAA Fisheries also finds that this management measure is necessary for the conservation of the menhaden resource. The best available information shows that menhaden in the Chesapeake Bay are an important component of the overall health of the stock, and further that their role as forage for predator species in the Chesapeake Bay is critical to the marine environment." The letter explains that the June closure was selected "to give Virginia the time necessary for its legislature to bring these regulations back into compliance."
A pdf of the press release can be found here – http://www.asmfc.org/uploads/file/5dfbd30bpr40SecretarialSupport_Menhaden_VANoncompliance.pdf
source: Atlantic States Marine Fisheries Commission
Related Information