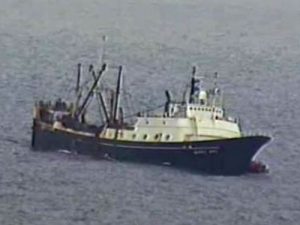 On July 30, 2016, Coast Guard 17th District External Affairs Office announced that the United States Coast Guard (USCG), the Alaska Department of Environmental Conservation (ADEC), and the Fishing Company of Alaska (FCA), which formed a Unified Command to respond to the sinking fishing vessel Alaska Juris, in the Bering Sea, have called off the search for the missing vessel which is presumed sunk in approximately 5,400 feet of water.
"We have searched and have not been able to locate the fishing vessel Alaska Juris," said Lt. Todd Bagetis, federal on-scene coordinator representative. "During this robust search, the safety of response personnel, the public and protection of the local environment have been our top priorities. I'd like to recognize close coordination and cooperation between Fishing Company of Alaska, the State of Alaska and various State and Federal agencies for their support and response effort."
The Unified Command had activated the fishing vessel Alaska Endeavor, the salvage tug Resolve Pioneer, and a Coast Guard Air Station Kodiak HC-130 Hercules aircraft crew to search the area northwest of Adak, Alaska, where the fishing vessel Alaska Juris was last seen.
Searches by sea were conducted on July 28-30, and air searches were conducted on July 29 and 30, with the vessel not being found. A search was also conducted along the track of the vessel's projected drift.
Unrecoverable diesel sheen was located in the search area with the source of the sheen unknown but believed to be from the Alaska Juris. Through an abundance of caution, the Fishing Company of Alaska formally activated a State and Federally-approved oil spill response organization, Alaska Chadux, per FCA's non-tank vessel response plan. The Unified Command has since stood down Alaska Chadux.
On July 26, 2016, aircrews from Coast Guard Air Station Kodiak, along with good Samaritans, rescued 46 people from the Alaska Juris approximately 690 miles west of Dutch Harbor, Alaska.
The cause of the fishing vessel Alaska Juris sinking is under investigation.
source: United States Coast Guard