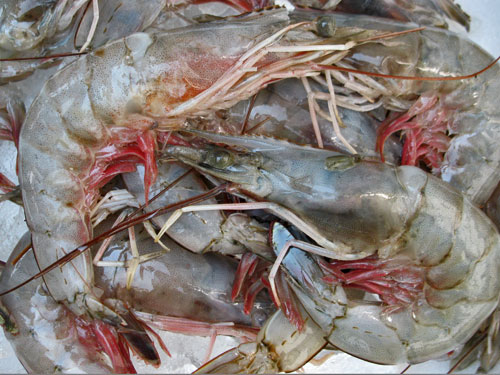 In North America, warmwater shrimp fisheries occur from North Carolina to Florida and in the Gulf of Mexico including Mexican waters.
Penaeid Shrimp
The most common warmwater species include brown, white, and pink shrimp.
Brown shrimp (Penaeus aztecus) grow as large as nine inches and have a maximum life span of 18 months.
Pink shrimp (Penaeus duorarum) grow up to 11 inches and have a maximum life span of 24 months.
White shrimp (Penaeus setiferus), or green tails, grow up to eight inches and have a maximum life span of 24 months.
Young penaeid shrimp shrimp enter estuaries in spring thru summer to mature. Juvenile shrimp are affected by numerous environmental and biological factors. Temperature, salinity, and tidal height have been associated with wild shrimp success.
Deepwater Shrimp
The rock shrimp (Sicyonia brevirostris) is found in deep water. The U.S. rock shrimp fishery occurs primarily off the east coast of Florida.
The royal red shrimp (Hymenopenaeus robustus), a deepwater species occurs between 800 and 1,500 feet deep. Royal red shrimp are found from Massachusetts through the Gulf and Caribbean.
In the Gulf of Mexico, royal red shrimp are harvested from deepwater areas off the Florida Straits and the Mississippi River Delta.
Related Information