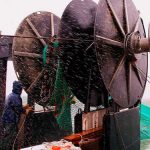 45th Maine Fishermen's Forum
March 5-7, 2020
Rockport, Maine
mainefishermensforum.org
The 45th Maine Fishermen's Forum will be held March 5th, 6th, and 7th, 2020 in Rockport, Maine.
The Maine Fishermen's Forum hosts fishermen, gear suppliers, scientists, government, and other stakeholders to collaborate on all things fishing: markets, resource status, regulations, technology, the environment, and other issues.
Each year the Forum provides three days of free seminars for fishermen covering a wide range of topics such as the health of the lobster resource, commercial fishing safety, upcoming regulatory actions, and much more.
The Forum
The Maine Fishermen's forum is the social event of the year for Maine's fishing community with informal socializing and networking opportunities.
Each night there will be an organized event, including the seafood reception, Friday night Fish dinner, and banquet and dance on Saturday night.
The Maine Fishermen's Forum is a family-focused event with a full suite of children's events. Day trippers are welcome but there are lodging options both on and off the resort.
The Trade Show
Over 120 suppliers of commercial fishing equipment and services exhibit at the Forum each year. Exhibitors will showcase engines, electronics, gear, traps, insurance, financial services, and more. For details, consult the trade show and exhibitors list.
Offshore Wind Seminar
The public is invited to attend a one-day seminar on offshore wind energy development in the Gulf of Maine. The seminar will be held on Thursday March 5 from 10:00-4:00 at the Maine Fishermen's Forum.
The Scholarship Fund
On Friday night, a live auction will features a variety of items, all generously donated by friends of the Forum. All auction proceeds, including those from the Thursday night silent auction, are returned to the community as scholarship funds for college-bound children of Maine fishing families.
To date, the auction has raised $421,570 for educational scholarships. A ongoing bucket raffle also raises more funds for the kids and provides the winner the chance to go home with some great prizes.
For more information, visit www.mainefishermensforum.org
source: mainefishermensforum.org